Products | Tuffpak | Original
An excellent advantage to the Tuffpak Original is that you can fit full length guns in their gun slips straight into it, without needing to take them down. The Tuffpak, with its discrete appearance, draws little attention to itself and could appear to an on-looker as golf clubs or fishing gear rather than a gun case! Tuffpak = Discreet Gun Case = Added Security.
Tuffpak | Original
This case is ideal for travelling with shotguns or rifles. The case will fit 3 scoped rifles or 5 shotguns in soft cases easily, (we have managed 8 shotguns on many occasions) with space for other accessories such as clothing and equipment. The case is easy to pull around with you as it has strong wheels attached to the base. The lock is a discrete key lock which gives you more than enough security from thieves. The Tuffpak cases are accepted by all major airlines.
Length: 52" Outside, 51" Inside.

Width Diameter: 13" Outside, 12" Inside

Weight: 21.2 lbs or 9.6kg

Capacity: aprox. 110 litres

Lock: Standard key lock supplied.

Capacity: 2-3 full length rifles or upto 5 shotguns in soft cases (plus clothing, boots, etc.)

Colour: Black
LIFETIME GUARANTEE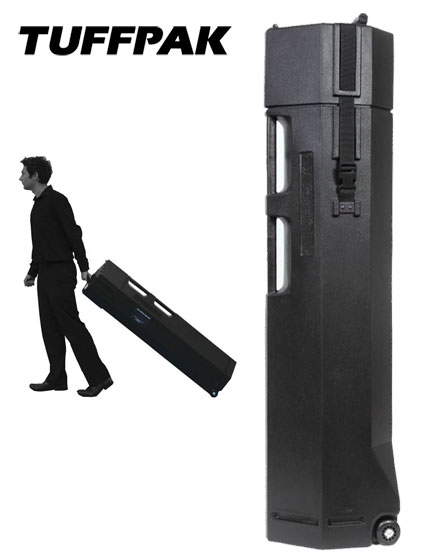 Personally Used and Endorsed by Us
We are proud to sell products we use ourselves, and the Tuffpak case is among the most used and reliable we can think of. We have been using 3 or 4 of the Tuffpak Original Cases for shows and events for many years, and every time they have been ideal. Packing 7 or 8 full Krieghoff Shotguns in gunslips, locking them in safely and transporting the whole lot is simple!