Products | AimSport
AimSport in Sweden have developed a moderator with a difference. The lightweight aluminium sound moderator is ultra quiet, super slim and with a new interchangeable thread nut design, it is very versatile.
We only Stock the Plus Camo and the Compact Camo - Limited Stock Available
Unfortunately we do not have the Cyclone, Triton Models or any recently released available.
We are NO LONGER AIMSPORT DISTRIBUTOR. Please Contact Highland Outdoors in the UK.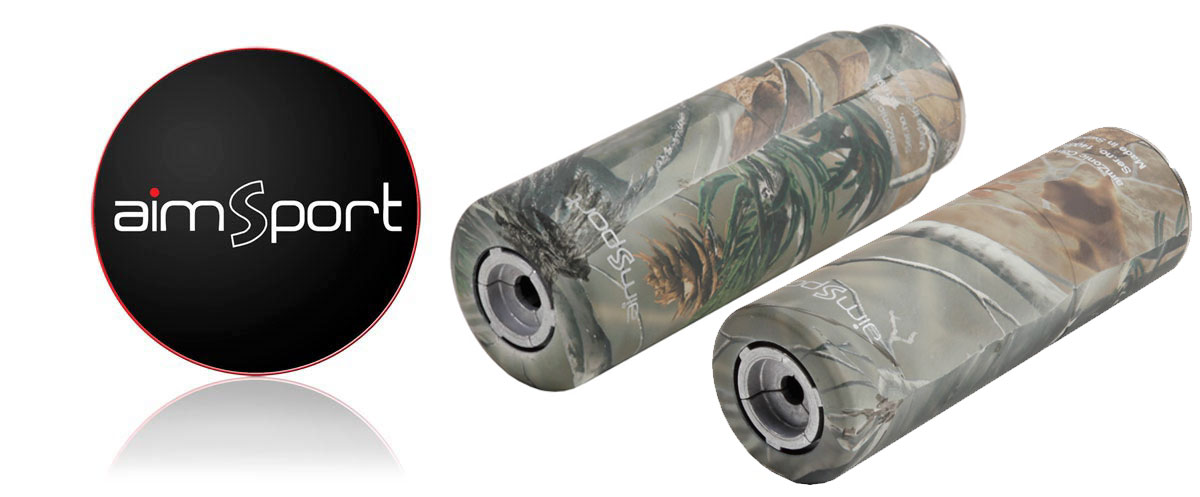 AimZonic Sound Moderators
Lightweight and compact, the aimZonic uses a completely new system with a large expansion chamber and by-pass valve. The aimZonic main models, Compact and Plus. All of which have a 5-year guarantee.
One Moderator for All of Your Rifles
The revolutionary modular design by aimSport allows you to change the thread nut on either the Plus or the Compact. The thread nuts can interchange between the two different models. This makes it perfect for dealers to stock many different specifications with minimal actual parts. We can supply every thread size available for your rifle. If you don't know the thread size on your barrel, you can check it yourself by following a few basic proceedures - Find your Thread Size.
Camo & Snow Models Available
The AimZonic Moderator range are the new Camo Plus, Camo Compact and Snow Plus. See the details on the Aimzonic Plus and the AimZonic Compact section. They are indentical to the existing Plus model, with the exception of camoflague outter design.