Products | Recknagel | Pivot Mounts
Recknagel pivot mounts are high quality quick detachable and feature excellent return to zero with low mounting height. The very low construction starts ay 10.8mm (including the base) for 26mm and 30mm rings. Mounts for Zeiss ZM, Swarovski SR, Schmidt & Bender Convex are also available with the Pivot System.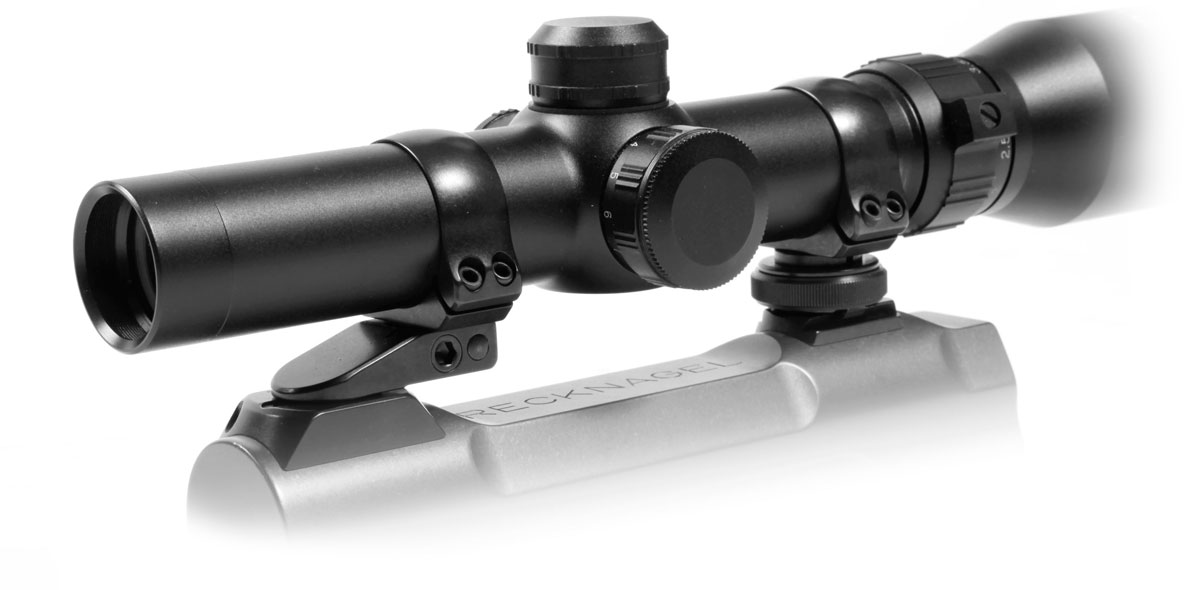 Recknagel | Pivot Mount System
Extended front foot is available to help obtain the perfect eye relief. With options of 0mm, 26mm, 31mm, 44mm and 56mm eye relief options available, you are sure to find the correct fit for your scope.

To remove the scope simply unlock the rear catch, pivot the scope 90º horizontally and lift it off the front foot. To re-mount just drop the foot back in the base, pivot to the rear, and lock. As quick and easy as that.
Pivot Mounts are made for a wide range of popular rifle models including the following:
Anschutz 1780 / 1781
Antonio Zoli
CZ 16mm Dovetail / 19mm Dovetail
Browning (A-Bolt, Euro Bolt, X-Bolt)
Heym SR 20 / SR 21 / SR 30
Howa
Krico 600 / 700 / 900 / 902
Mauser 66 / M94 / M96 / M98 / M12
Merkel SR1 / SR1 Basic
Remington 700 / 783 / 7400 / Seven
Roessler Titan 3 / Titan 6
Sako 75 / 85
Sauer 80 / 90 / 200 / 202 / 101
Savage Flat Top / Rounded Top
Steyr Manlicher
Tikka T3
Weatherby
Winchester
Zastava
A picatinny rail can also be mounted with your existing pivot system to facilitate nigh vision scopes and red dot sights.

A Custom Mount?
Using blanks and parts from Recknagel, we can build custom made mounts to fit your rifle. Generally custom made mounts are needed for obscure models, custom built or older guns which Recknagel don't produce standard fitting parts for. The work involved could vary from drilling some holes to fit to a fully made part, this is why it's hard to quote without seeing the gun. If you are interested in a custom mount, please feel free to contact us for more information.