VFG Rifle Cleaning - How to Use
Using the VFG Cleaning Equipment is simple. Using you VFG Cleaning Rod with VFG Felt Adaptor or your existing cleaning rod with VFG Felt Adaptor you can clean your rifle in a matter of seconds.
Fit the Felts on to the Adaptor
Once you have the VFG Felt Adaptor fitted to your rod, you're then able to screw on two VFG felts. We would recommend that the end nut is used to stop the felts coming off on the pull stroke.

Using the Rod
Once your rod and adaptor are loaded with fresh VFG Felts, you're good to go. Simply guide the rod into the breech end of your barrel. You may feel some resistance, but as the felts can compress they may just need a small bit of pressure to initially enter the barrel. Once in, hold the rod handle and push the rod down the barrel.
The rod will naturally rotate as the felts press into the rifling grooves. A good tip is to not let the felts exit the barrel end until you're finished so you're able to pull the rod back up the barrel to utilise the felts a little more. 2-4 back and to strokes should be sufficient on each group of felts.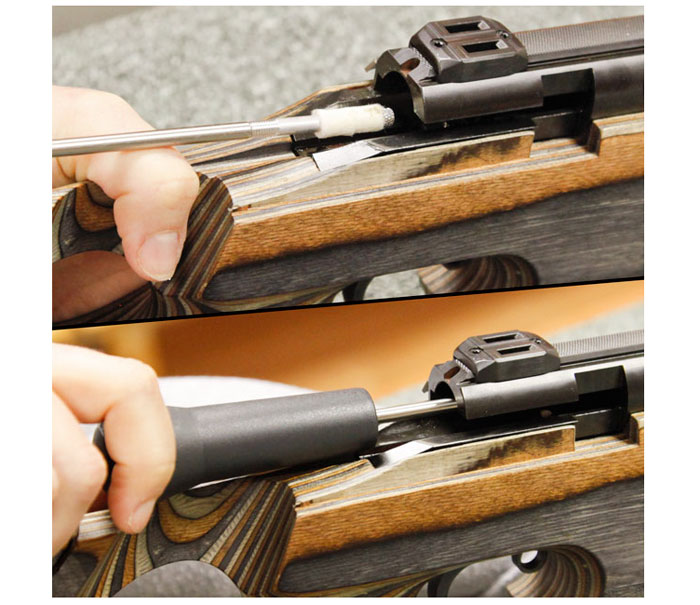 Amount of Cleaning
Cleaning depends on the user. If you are still seeing carbon and fouling on the felts once they been used, you will need to use another group of felts until there are no visible fouling on the felts and you're happy with the clean.
The Super Intensive felts have brass fibres embedded in the felts itself and do a deeper clean. A ratio we use in the workshop at Alan Rhone Ltd is 1:4 of Super Intensive to Standard Felts.